__________________________________________________________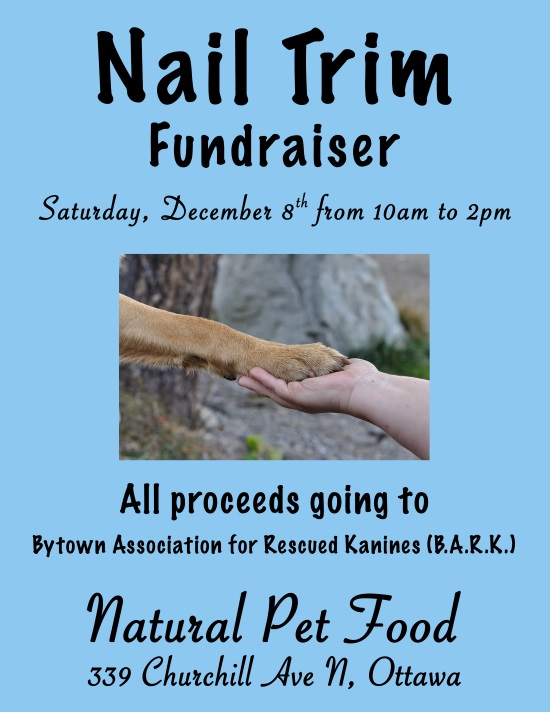 With our own Kim Archer
Saturday November 25, 2017

Pet Valu Barrhaven
Barrhaven Village Square
1581 Greenbank Rd
10 am - 12 pm

Pet Valu Manotick

1:00 pm - 3:00 pm
_____________________________________________________________________________

Please note our location has changed this year, we are 3 blocks away from
what used to be St Richards Church, very easy to access same great
set up and wonderful parking!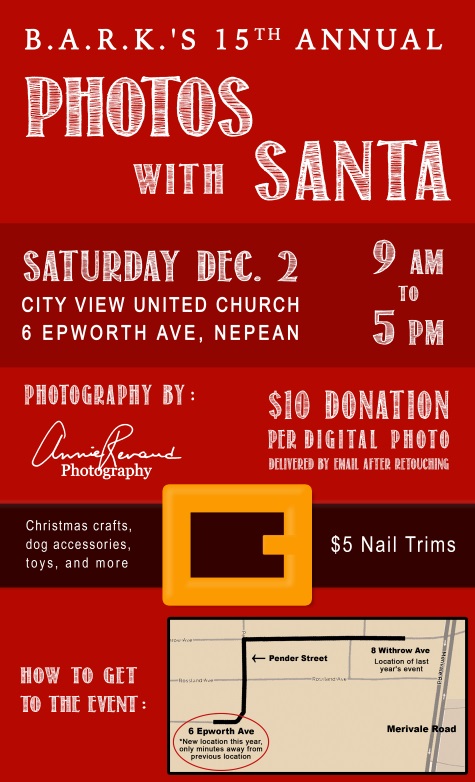 Don't forget to come out for your photos with Santa with your pets
then head out to Carolark for a great Toy Making Event.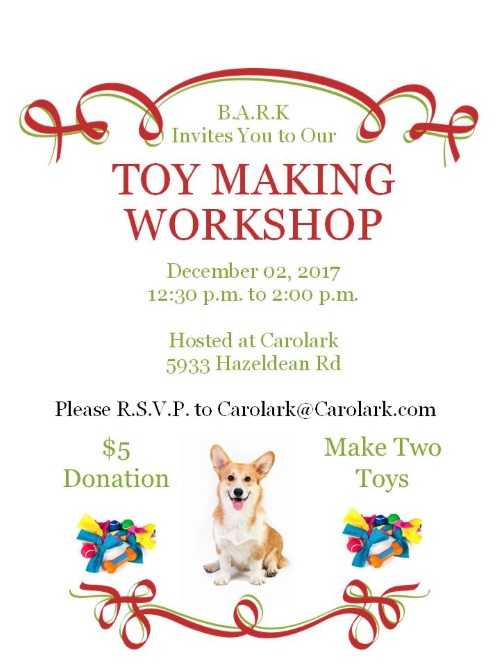 Gavin Dyke has been a long time Foster Home and big supporter of
Bark for many years so let's all support him!
My band is called Black Dogs and the album we're releasing is actually 2 shorter
albums on one LP. One is called 'Quarter Life Crisis' and the other is called
'It Either Happens All At Once, Or It Never Comes At All'. You can listen
to the songs here: http://2blackdogs.bandcamp.com/
They're the two at the top of the page.

We also have a facebook page: https://www.facebook.com/BlackDogsFolk
And a website: http://blackdogs.ca/
For people who may want the album, but don't want a vinyl, the songs can be
downloaded at the website with our albums on it.
20% of all album sales will be donated to Bark.
Facebook: https://www.facebook.com/BlackDogsFolk
Website: http://blackdogs.ca/
_____________________________________________________________________________________________________
________________________________________________________________________
_____________________________________________________________________
___________________________________________________________________


________________________________________________________________




________________________________________________________________

Who Are We ~ What Do We Do ~ How Much Is That Doggie In The Window Foster Parent Program ~ Happily Ever After ~ Memberships & Donations
B.A.R.K. Boutique ~ Volunteers ~ Other Dog Related Links ~ Newsletters
Upcoming Events ~ Licks & Wags ~ This & That ~ Fond Memories
Contact Us ~ Top of Page