Our adoption fee is being raised from $500 to $600
effective August 1, 2022.
This is due to a number of things.
Rising costs in Veterinary fees
The inability to host large fundraisers
since Covid struck over two years ago
and the fact that we cannot break even
at an adoption fee of $500 anymore.
We are certainly not in the business
of making money no one in rescue
ever went into it hoping to make money.
You do however have to at least break even
to continue to rescue these days.
We hope everyone understands.
___________________________________________________________
_____________________________________________________________
_______________________________________________________________________________
____________________________________________________________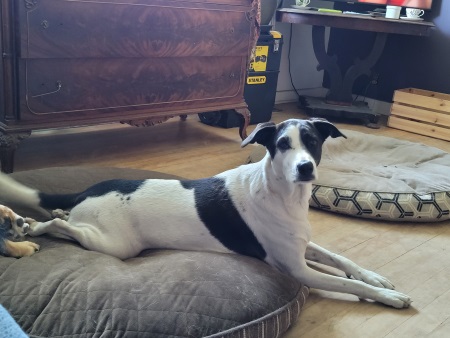 Piper
Piper is a 17 month old, weighs about 55 lbs, is spayed, shots
are up to date, she is Heartworm checked and is microchipped.
We brought her in last year from Antigua

From her Foster Mom

This little girl is the sweetest, most loving pup I
have ever met. Loves to give kisses and rolls over
on her belly when you are coming her way, just in
case there is a belly rub to be had.

A bit skittish over loud noises but getting much
better. Not a lot of experience walking on leash
but she is good at it if it is not too loud – buses make
a lot of noise and are scary.

Piper had a big hip surgery and healed well – loves to
run and play with my other 2 dogs. She would do
best with someone who takes shorter walks
or has a fenced yard she can hang out in.

She love to be outside and is great with other dogs and cats
She is extremely smart and a little bit stubborn
She is quite independent but will come for cuddles
and kisses often. She sometimes will sleep on the
floor but each morning I wake up to her little
face on my pillow waiting for the day to begin.
If I did not already have 2 dogs, she would
have been a foster fail.

To inquire about adopting Piper please email smckeil@primus.ca
_____________________________________________________________________________
__________________________________________________________________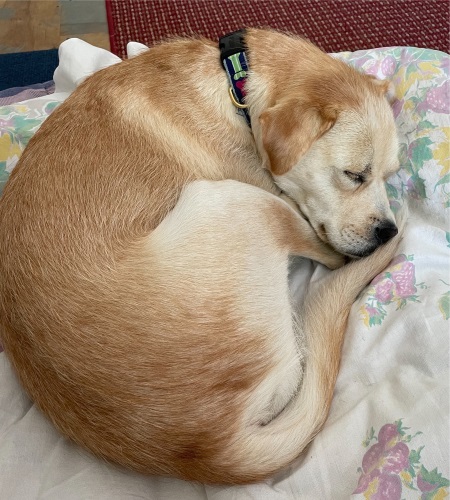 Bella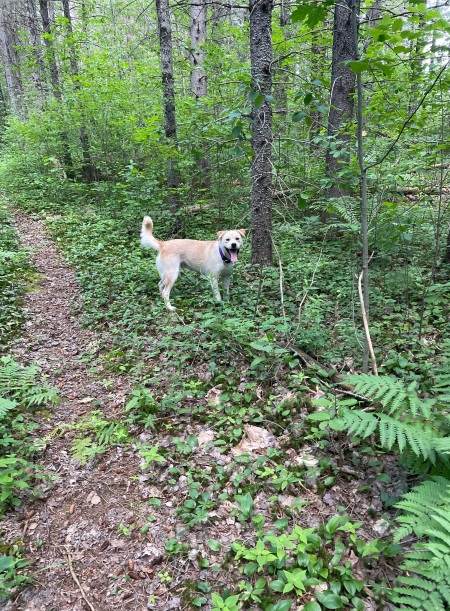 Bella
_______________________________________
Bark now urgently needs either a Foster home or a Foster with a view to adopting.
Bella was brought in from Pond Circle Nunavut with 6 two week old puppies several months ago.
We thought she was 5 or 6 years old but turns out she is only two.
The present Foster is finding her too lively and we need to move her asap.
She is a Golden Retriever/Husky mix, great with other dogs and older children. She is not good with cats judging by the shape she was in when we got her she probably had to hunt to survive.
She is a sweet quiet girl and full of playful energy. She learns quickly and likes to do the right thing when she has been taught what that is. She has a over bite which means her lower jaw is a little longer than her upper jaw which I think makes her look cute. It does make it a little harder for her to chew hard food or be able to pick up flat food or other flat things. Small bites dog food with some wet food spread over it works very well for her. She has been eating 2 cups of dry dog food with another cup in a Kong toy that she rolls around to release the food. It is best not to feed her before a long trip, no problem on short drives, She needs a dog car seat belt (purchased at any pet store) as she will jump out of a open car window, even when it looks like she couldn't get through the window, as I found out the 1st day I brought her home.
She loves to go for long walks and runs. She also loves to play with squeaky tennis balls, one of her favourite toys (which can be purchased at any pet store as its best when she can squeak it), and have it thrown any number of times through out the day, she will tell you when she's finished playing, along with playing with her squeaky toys. She loves to have you talk to her, and to be pet, especially around her ears and tummy.
She always let me know when she wanted to go out and never messed in the house .I was always amazed at how few times in a day that she needed to go.
She loved to be outside during the day most of the time and at times in the evening. She'll let you know what she wants. She loves to sleep in a cave structure. I cleared a closet out in my room and put in a quilt for her bed. She also had a nice soft cushion by the closet. She also liked being in the closet and use the cushion for a pillow.
The words Bella knows well are: No, Out, Stay, Wait, Come, Down, Treat, Supper, Tennis Ball, Outside, Fresh Water, Sit, Go, Walk, Woods, Car, Off, Where is...., Go get it, Bring it here,.
Words she's working on : Lie down, On your cushion, Bring it here, Go get it, Drop it.
In summary Bella is a loving sweet wonderful girl. She wants to please once she understands what you want of her. She would do well in a family , with a number of people to play with her, kids 8 and up would be best just because of her size, tall but very slim, or with a couple. She would also love to have another dog if possible to play with. She is very friendly with people and other dogs. She is learning to sit when another dog is going by as she so wants to go over and say hi to the other dog. She loves to chase cats and squirrels and can be a bit over the top when she sees one. Always be aware if there are any cats or squirrels when on your walks so you can get ahead of her need to chase them. Tell her No and have her sit till she is calm. She heels well and doesn't pull on the extension leash. I'm not sure how she would be to greet a small dog. She definitely pulls to go and see them. She would not intentionally hurt them I believe, however her excited energy could maybe scare them.
If you give her love, walks, pets, and play time, she'll give back to you, love, laughter, friendship, and loyalty.
To inquire about Fostering Bella please email
smckeil@primus serious inquiries can call us directly at
613-738-0119
__________________________________________